MS Trollfjord: >About the ship<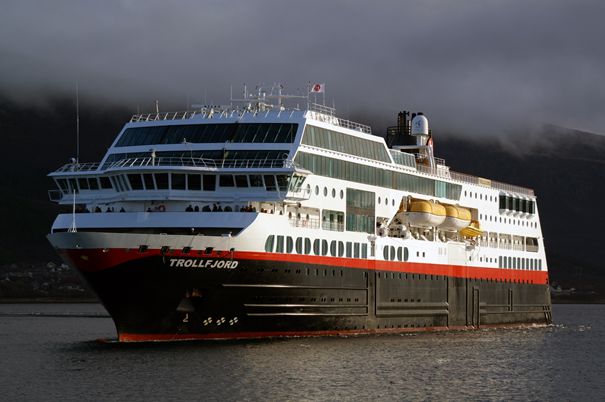 Hurtigruten Photo: Hurtigruten
Bergen starting point
The meeting starts in Bergen on the 9th September, and we will be sleeping on the boat from the departure until we dock in Kirkenes on the 15th September.
It will be up to each and one how and when they leave Kirkenes for their chosen destination when the meeting is over.
We would although recommend that on our departure from Bergen that you come on Sunday, 8th September. By this you have a much wider choice in flights to Bergen.
There are several hotels in Bergen and if you go into internet and seek for hotel near the Hurtigruten terminal, we are certain you will find a hotel of your liking.
If you never have visited Bergen, here is the chance for you to do so. Just remember that on Monday the ship departs from Bergen at 20:00 (8 PM).
The passengers can embark at 16:00 (4 PM).Your cabins will be available from 18:00 (6 PM). Check in closes at 19:30 (7:30 PM).
But remember to be on time for the ship's departure.
THE SHIP WILL NOT WAIT FOR ANYONE.
Kirkenes, the ending point
MS Trollfjord arrives in Kirkenes in the morning, so you might catch a flight from Kirkenes the same day.
If you decide to stay a day or two, look up on internet for hotels/bed & breakfast in Kirkenes.
We hope to arrange a meeting with a local amateur radio club on the day we arrive in Kirkenes.
The next day you can, if you stay, you can choose between a river boat excursion or a bus excursion. Both tours take you up to the Russian border.
The dates for boat excursions must be checked.